This article is a quick guide that describes how to install OpticStudio and activate a new OpticStudio single-user legacy softkey license.
After receiving a new OpticStudio softkey license from Zemax, you need to complete two processes to properly configure your license and run OpticStudio: Install the latest release of OpticStudio on your computer and activate your softkey license in the Zemax License Manager.
Authored By Don Dickinson
Introduction
Before proceeding, please read:
This article applies to software licensed via legacy Zemax licenses. Legacy Zemax licenses include all USB-based licenses, licenses with 5-digit numeric serial numbers (e.g. 22000), and 6-digit alpha-numeric serial numbers beginning with "L" or "T" (e.g. L100000). You can identify your license type using the guide located here: How to identify your legacy Zemax license.
If you are using Ansys-licensed versions of Zemax software, see Ansys Zemax licensing overview and guides.
If you are installing Zemax Opticstudio (not Ansys OpticStudio) and trying to reach a shared Zemax legacy network license at your organization, please follow Configuring Zemax applications to access a Zemax network license instead.
Installing the software
To properly install the latest release of OpticStudio on your computer, follow the steps below.
Verify your computer meets the system requirements. Note that a 64-bit version of Windows 7 Service Pack 1, Windows 8.1, 10 or newer is required. Make sure you have administrative privileges to install software on your machine or you will not be able to complete the setup.
Apple users: OpticStudio does not run natively on Apple computers; users with these computers must use a Virtual Machine (VM) platform such as Parallels, VMware Fusion, or VirtualBox with a Windows operating system for OpticStudio. Note also that activating a softkey license under Apple Bootcamp (dual boot WIndows and OS/X) is not supported, nor are Apple M1 CPU's. See How to run OptioStudio or other Zemax applications on an Apple Mac computer
Close any instances of OpticStudio if you already have a version of OpticStudio installed.


Download the latest OpticStudio release from the OpticStudio Downloads page.
Important note: For this license type, do NOT get the Ansys OpticStudio release. You want the Zemax version.


In your Windows Downloads folder, <double-click> the downloaded OpticStudio installation file. A Setup Wizard will then open to guide you through the installation. Click Next.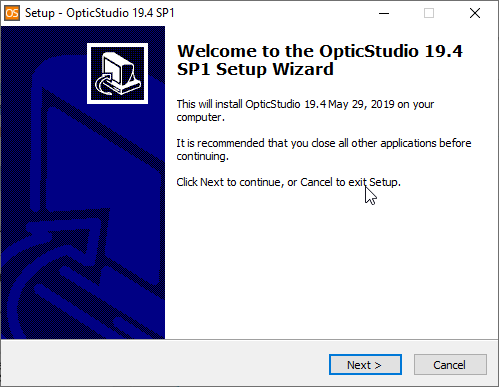 Read through the OpticStudio End User License Agreement, and select I accept the agreement. Click Next to continue.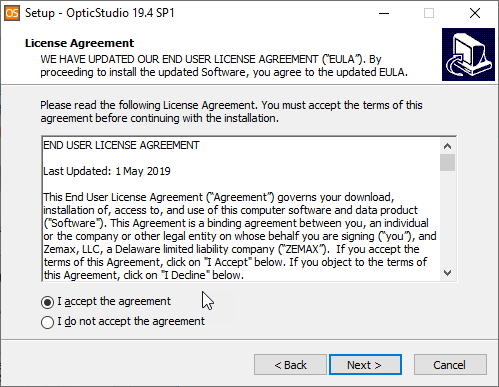 You will then be prompted with a window reminding you to close any open instances of OpticStudio or the PDF user manual. After doing this, press Next to proceed.
You will then be prompted to select a location to install OpticStudio. By default, OpticStudio will install to "C:\Program Files\Zemax OpticStudio," but you can specify the location or folder name of your choice. Click Next to proceed.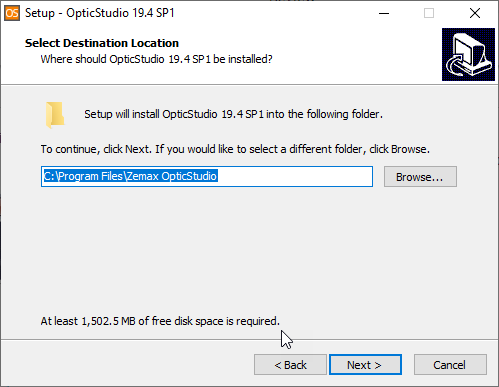 You can specify the Start Menu folder name. We recommend that you do not change this from the default of "Zemax OpticStudio." Click Next.
Select Create a desktop shortcut if you would like. Click Next to proceed.
On the following installation summary window, click Install to continue.
A dialogue will appear notifying you that the installation is in progress. This may take 20 minutes or more depending on your machine, so please be patient.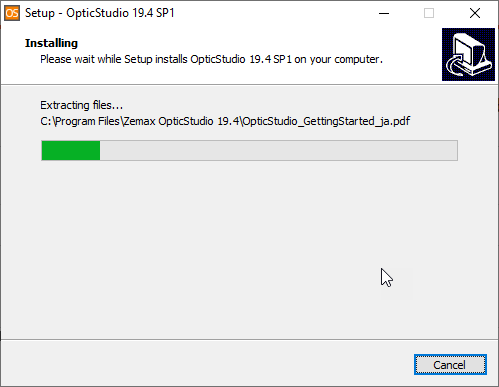 Once complete, you will see this window. Click Next.
There is an option to launch OpticStudio automatically once finished, We recommend you check this box. Click Finish to start OpticStudio.
When OpticStudio launches for the first time, it will copy all the sample lens and catalog files to your user account's "Documents\Zemax" folder. Click Ok to allow this. This will take a few minutes.

After copying the files, OpticStudio will automatically open the Zemax License Manager. If it doesn't open automatically, navigate to Start...Zemax OpticStudio...Zemax License Manager. The next section will describe how to activate your OpticStudio license.
Activating the softkey license
After you have installed OpticStudio, you must activate your softkey license. As a first step to activating your license, you must complete setting up your Zemax account. If you do not complete your Zemax account, you will not be able to activate your license.
When you received your new OpticStudio license, you also should have received an email inviting you to join Zemax if not already previously invited. Locate this email and complete your account activation. If you previously had an account or don't know your login, you can reset your password from the Sign in link at the top right of any Zemax web page.
After you have activated your Zemax account, proceed with the following steps.
Open the Zemax License Manager application from Start...Zemax OpticStudio...Zemax License Manager. and navigate to the New License tab.


Enter the License Number and Activation Code from the activation email in the designated fields. If your software requires registration, two fields will automatically be displayed asking for a Zemax email address and password. Enter your Zemax email address and password in these fields.


Select Activate to complete license activation. If it has successfully activated, you will receive a confirmation message.
Note: If you receive an error message when activating, navigate to the Troubleshoot tab and select Check HASP Drivers. This will check and repair the licensing drivers if needed. If that process gives any messages other than Ok, see "Solving softkey activation and transfer errors" for additional troubleshooting information.
After activating your license, verify that it is working by navigating to the View License section of the Zemax License Manager. Verify the Product name and support expiration match those shown in your activation email.
Close the License Manager and OpticStudio will automatically launch. If you get any errors trying to launch it or nothing happens, see "Troubleshooting your OpticStudio installation."

Note: If you need to launch OpticStudio again in the future or it does not start automatically, use the OpticStudio desktop shortcut you created, or find the shortcut in Start...Zemax OpticStudio.


The installation process is complete!
As a final step, we recommend you read the Zemax Licensing Policies. It gives details on how your softkey license works and tips to avoid losing it.
Also, be aware you may transfer the license to use OpticStudio on another machine if needed. To do so, follow the steps in "Transferring a Zemax softkey license."
KA-01832