Zemax uses either a hardware key or software license key for copy protection. Users in highly secure environments need to know whether the hardware key is capable of being written to. The short answer is that it is not. This article provides details and an official document detailing this.
Authored By Don Dickinson
Downloads
Supported key types
One method used for licensing OpticStudio is a Gemalto Sentinel SHK (Black) Sentinel HL MAX (Green), or Sentinel HL NET (Red) USB hardware key. Each of these key types are available in standalone and network-licensed versions. Note that the Sentinel SHK (Black) keys were discontinued by the vendor in 2016 and therefore no longer available for purchase or exchange.

Obsolete key types
Older versions of Zemax software used Rainbow SuperPro (purple) USB key or a parallel port device key. These devices are no longer supplied, and they are not compatible with versions of Zemax after 2008. If these keys are being used, especially in highly secure environments, we recommend that they be replaced with the newest key type. To do this, send an email to sales@zemax.com. Please include your license key serial number, shown in the images below.

These key types may be exchanged for the new type at no charge, provided you have a current support agreement on them, per the Zemax license policy.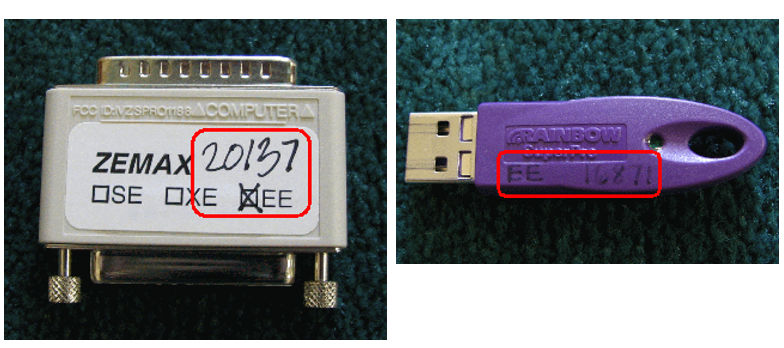 Can I write data to a Zemax hardware key?
Zemax keys are purchased from our license vendor, Gemalto. Zemax then programs the key to be eligible to run the purchased version of OpticStudio.
The Sentinel Hardware Key is a proprietary security device which is used to ensure that each user of Zemax software has the rights to run the application. At no time does any other application, part of the Operating System or system user have access to the key's onboard memory, nor can the key's memory be used as a generic storage area. The only way to use the key's memory is through SafeNet specific APIs, and with a specifically protected application.
if your organization needs an official statement, see the Certificate of Volatility in the Article Attachments section above.
KA-01470