This article describes the installation of the Ansys version of OptiStudio and links to configure access to an Ansys license. It assumes you are accessing a license on a server at your organization or have activated this machine with an Ansys license.
Authored By Don Dickinson
Important note before beginning
This applies only to those who will use an Ansys Flexlm license. Ansys versions of Opticstudio will not work with legacy Zemax licenses. Legacy Zemax versions of Opticstudio will not work with Ansys licenses.
If you are activating a legacy softkey license or possess a red USB license starting with T or L (like L100000) on this machine, see this article.
If you have been assigned a network license starting with T or L (like L100000), see the "Installing on the client machine" section of this article. If you are accessing a network license that contains a 5 digit number (22000-40999) see the "client" section of this article.
Prerequisites
The install process requires administrator rights to properly install all components, rights and prerequisites.
A 64 bit Intel or AMD Windows 7, 8 10 or 11 system (or equivalent Server 2012 or higher) is required. NOTE: Apple M1 based CPU's and WIndows ARM releases are not supported.
Installation
First, download the Ansys Zemax Opticstudio version from the Ansys download page or your Zemax Profile, Next, launch the installation file.
You will get the following screen. Read therough and select "Agree" to the license terms. Click Install to begin.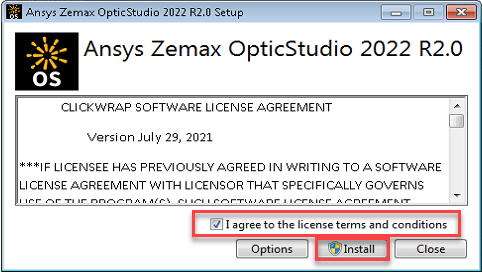 Next you will get a Windows UAC prompt to allow the program to make changes. Select Yes, as this is required to allow access to the license.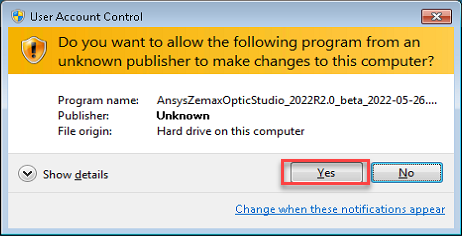 The installation will continue with the prerequisites and application files.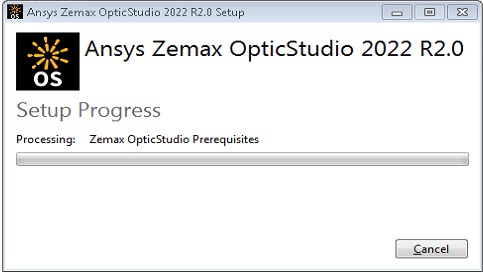 Once setup is complete, then you may close the install application.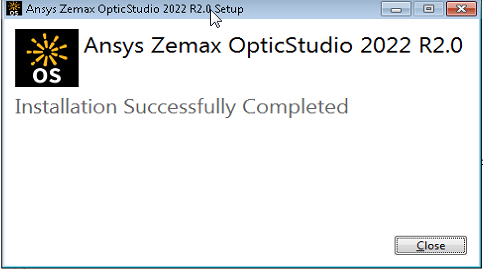 Starting Opticstudio
From the Start menu open the "Ansys Zemax OpticStudio" folder to find this version of OpticStudio.
Once the application launches, it will copy the OpticStudio DATA files including samples and catalogs. These are copied to your Documents folder in a subfolders called Zemax by default.
If you are upgrading and have specified a different DATA location, it will use the existing one.


If the application starts, you are done! Otherwise move to the next section below.
Configuring a license
If you get a license not found error and are brought to the License Utility app, you will need to configure your machine to access the Ansys license.
To configure your machine to reach a shared license on a server at your organization, see this article for license configuration instructions.
If you have just received a new Ansys license activation email and need to activate it on a server at your organization (preferred) or want to activate this machine directly, see this article.